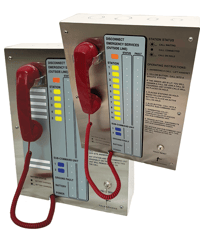 NILES, IL – Talkaphone recently announced the launch of two highly anticipated additions to their Area of Rescue (AOR) product line: the Fixed 5-Station and Fixed 10-Station Analog Area of Rescue Command Units.

The AOR-5 and AOR-10 are Talkaphone's new fully integrated fixed-station analog command units, accommodating up to 5 and 10 ADA-compliant area of rescue stations, respectively. These command units provide both audible and visual indications for an incoming call—dedicated LEDs indicate the calling location.

"We're thrilled to introduce the Fixed-Station Analog Area of Rescue system—this solution offers the latest in compliance to NFPA 72 requirements and meets multi-story construction demand for 5- and 10-station systems," said Clarence Wong, vice president of product management at Talkaphone. "With features such as expanded supervision, additional on-site answering points, and all-call paging, this solution serves the need for two-way emergency communication in a wide-range of jurisdictions."



Additional system features include:
Automatically and continuously supervises for integrity (opens, shorts, and system ground fault), low battery backup, and 24VDC input power fail—alerts by relay output to an addressable fire panel, LED, and sounder
Stations receive power from command unit, powered by 24VDC
Supports up to two (2) Sub-Command Units for multiple on-site answering points
On-site calling requires no outside phone line
Off-site calling requires one (1) analog phone line (PSTN line)
Solid LED indicates active call. Flashing LEDs indicate stations that are waiting to be answered. When first call is completed, second call is automatically placed and Command Unit rings. Multiple calls are placed in queue on a "first-in, first-out (FIFO)" basis.
Built-in 24-hour battery backup in the event of primary power failure
Includes built-in handset with volume control
Dedicated talk/hold buttons for each area of rescue station
Options available for surface mounting, flush mounting, and cabinet with door

Both AOR-5 and AOR-10 command units are fully compliant with the NFPA 72 (2019) §24.10, IBC (2018) §1009, ICC A117.1 (2017) Ch. 7, and ADAAG (2010) Ch. 7.



For more information on the Fixed 5-Station and Fixed 10-Station Analog Area of Rescue Command Units, please visit

www.talkaphone.com/fixed-station-analog-area-of-rescue-system.



About Talkaphone:
Established in 1935, Talkaphone is the industry's leading designer and manufacturer of alerting, notification, security, and life safety communication solutions for customers all around the world. From personal safety and collaboration to access control and mass notification, we've answered the call for diverse and meaningful products that address communication needs as well as security integration for over 87 years. For more information, visit www.talkaphone.com.