be Seen. be heard. bAlert
bAlert is Talkaphone's newest product offering. The safety, security, and well-being of education, healthcare, municipal, and corporate businesses are top of mind. bAlert is Talkaphone's new personal safety and mass notification solution. The bAlert platform provides end-to-end protection when a critical or non-critical event occurs. bAlert consists of a Mobile Safety App, Computer Panic Button, Bluetooth Panic Button, and an integrated emergency alert portal.
Mobile Safety App
The bAlert Mobile Safety App (MSA) has up to nine unique personal safety features. The app features an emergency slider that places a call directly to first responders. The bAlert technology uses geofences to determine if the app user is on the property in which case it will dial a local security office. If the user is off of the property it will prompt them to dial 911. Below the emergency slider there additional tiles that provide other enhanced safety features.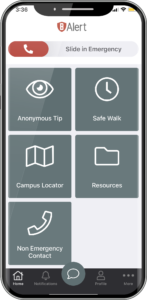 The Anonymous Tip feature allows users to enter text and attach photos or videos with the option to submit anonymously.
The Safe Walk feature allows app users to set a timer for the duration of an activity. The app sends an SMS message with location tracking to their chosen contacts. When the activity is complete, the user can enter their secure pin to cancel the alert. If not canceled an alert is immediately sent to their contacts for follow up.
The Campus Locator includes a map that identifies physical locations of interest for the user. Many choose to highlight blue light towers on campus, bus stops, construction areas, and other important buildings on site.
The Resources feature allows easy access to useful information such as emergency operation plans, employee handbooks, calendars, and other important documents.
Lastly, the Non-Emergency Contact feature allows users to report non-emergency situations to a separate non-emergency number.
Computer Panic Button
The bAlert emergency communication platform includes a Computer Panic Button (CPB). The CPB technology is activated by double-clicking the icon or using the hotkeys on a desktop computer. The information and location details of the panic signal are sent to the Portal and the Emergency Response Team. Unlike traditional panic buttons, the bAlert Computer Panic Buttons use our Indoor Positioning System and can report the location of activation.

Bluetooth Panic Button
Talkaphone's new bAlert platform also includes a Bluetooth Panic Button (BPB) that can attach to a lanyard, keychain, or desk. The BPB acts as an efficient and discrete way for users to communicate with emergency personnel. The button connects to a tablet or smartphone with a Mobile Safety App license via Bluetooth.
Indoor Positioning System
The Indoor Positioning System (IPS) is the location technology utilized by the Mobile Safety App, Computer Panic Buttons, and Bluetooth Panic Buttons. The IPS can help locate any panic button signal down to the floor and room number using existing Wi-Fi Access Points to obtain an accurate location with no additional hardware required.
Talkaphone Integration
Talkaphone's new bAlert solution integrates with our world-class Blue Light Towers. When the emergency button is pressed on a Talkaphone Blue Light Tower, activation will appear in the bAlert Portal. The camera footage will display on the bAlert Portal when an emergency button is activated. When the emergency slider on a Mobile Safety App is activated, it will also turn on the closest Blue Light Tower camera.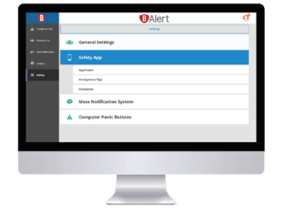 Portal
The bAlert Portal is your all-in-one center for setting up and deploying all bAlert solutions. The cloud-based Portal is designed to be accessed from any internet-enabled device and can be deployed with no additional hardware.
Mass Notification System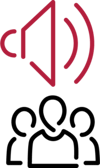 The Mass Notification System (MNS) sends targeted alerts to any number of groups. The bAlert MNS can send notifications from any device anywhere in the world. The alerts can be sent to 11 different platforms such as text messages, emails, social media, and WEBS-enabled Talkaphone Emergency Call Stations. The MNS also includes a community feedback board that provides two-way communications to users. You can also configure an MNS message to prompt recipients to respond to the questions, "are you okay" or "do you need help" which displays on the portal.
At Talkaphone, we understand that Universities, Hospitals, and other campuses are regularly seeking innovative safety solutions and new technology. To confirm a date for an online bAlert demonstration and to learn more about our security innovations, email us at info@talkaphone.com or join one of our weekly Talkaphone New Product Webinars.
TAP-In to Talkaphone and stay up-to-date with our latest news, case studies, and blogs. Click here to subscribe