Make 2020 the Safest Year Yet
With the new year well on its way, you may be looking for ways to improve your safety plan and searching for new security solutions.
Talkaphone designs attractive and reliable products that are compatible with a number of solutions providers such as Axis Communications, Cisco, Genetec, Johnson Controls, and many more. With over 85 years of experience, Talkaphone is the industry's leading manufacturer of security solutions. We are committed to providing innovative products and focus on continuous advancement.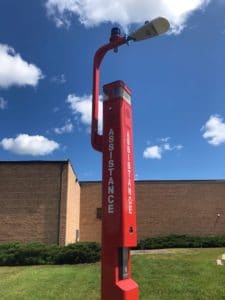 We design security solutions to fit every need starting with our versatile blue light towers and wall mounts. Talkaphone's blue light phones are a reliable form of communication in remote areas. The presence of our blue light towers in parking lots and walkways deters crime while providing users with the ability to place an emergency or non-emergency call for assistance. Our various call station options provide schools, healthcare facilities, and corporate campuses with a strong sense of security.
We also manufacture solutions with mass notification capabilities such as our Wide-Area Emergency Broadcast Towers. These systems provide critical information to people in emergency situations. The Clery Act requires all universities and college campuses to notify students of emergency situations and criminal activity on campus. With the capability of sending live or prerecorded audio messages, our mass notification towers are often implemented for routine messaging and everyday use.
Talkaphone's VOIP 200 Series phones are great security solutions for visitor management, front door entry, secured areas, and other applications where access control is important. The VOIP-201C3 video call station interconnects with our AVM-1 IP video attendant station for a one-stop access control/SIP intercom solution.
Last but not least, area of rescue/refuge (AOR) systems provide those unable to evacuate a building in an emergency, with a designated place to wait for assistance and the capability to communicate with emergency responders. AOR systems are code-driven and required by law for every multilevel building in the USA. Talkaphone's AOR call stations are hands-free, ADA-compliant, IBC-compliant, and NFPA-compliant.
We value commitment and aim to provide the highest quality products and customer service to our suppliers, integrators, distributors, consultants, and end-users. From blue light towers to areas of rescue, we have you covered.
TAP-In to Talkaphone and stay up-to-date with our latest news, case studies, and blogs. Click here to subscribe.