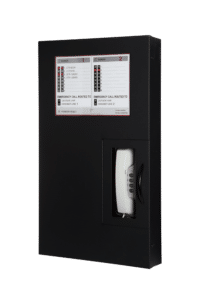 Talkaphone's AOR Series Command Units is updated with hardware to detect short/open conditions on cabling for each area of rescue station. With this update, the system will also recognize a general ground fault condition. Such trouble conditions will be annunciated and visually indicated at the AOR Series Command Unit. These capabilities will allow users to understand where there may be a disconnection from the command unit and each individual call station. These changes have been made in accordance with the required codes — IBC (2015) §1009, ADAAG §7, NFPA 72 – (2016 edition) 24.10 and the ICC A117.1 Ch.7.
An Area of Rescue system consists of a command unit, a selected number of AOR stations (flush or surface mounted) and AOR signage to accommodate the selected number of AOR stations. A command unit powers each of the AOR call stations. This connection is provided through cabling between a command unit and each of the AOR call stations.
The system begins when the user initiates an emergency call from an AOR station, a tone is heard to confirm the call has been placed and an LED light indicates the call has been received. At the same time, the command unit's strobe starts flashing and the siren is initiated. An active call is displayed as solid red. The command unit's siren deactivates when local fire personnel answers the call.
For more information please contact info@talkaphone.com, or call us at 773-539-1100.
TAP-In to Talkaphone and stay up-to-date with our latest news, case studies, white papers, and blogs. Click here to subscribe.