Safely reopen your facility with the COVID Safety System.
bAlert is Talkaphone's newest personal safety solution. The bAlert COVID Safety System turns any smartphone into an integrated security device and provides solutions and resources to help your business respond to the constantly evolving pandemic. The bAlert COVID Safety System can easily integrate into an existing COVID-19 screening workflow, or create new and efficient workflows for facility entry.
The bAlert COVID Safety System provides timed entry badges, and analytics for decision-making—keeping your workplace safe! The system also includes a customized self-assessment feature, COVID-19 resources, campus map, and an anonymous tip feature.
All of the features included in the COVID Safety System can be configured and analyzed in the integrated web portal. Here, you can customize, monitor, and review live data.
The Self-Assessment feature
bAlert offers options to customize the self-assessment tool to your facility. This allows you to provide different assessment questions based on different roles within the organization. This feature also provides timed entry badges based on the answers to the user's self assessment.
The Resources tile

allows easy access to useful information such as emergency operation plans, COVID-19 response, safety protocols, CDC guidelines, and other important documents regarding the virus.
The Campus Locator

includes a map that identifies physical locations of interest for the user. Administrators can include testing facilities, sanitation stations, and other important buildings on site.
The Anonymous Tip feature
The bAlert Mobile Safety App is equipped with an anonymous tip tile. This feature allows users to enter text and attach photos or videos with the option to submit anonymously. With real-time reporting, users have the power to report social distancing violations and other unsafe practices.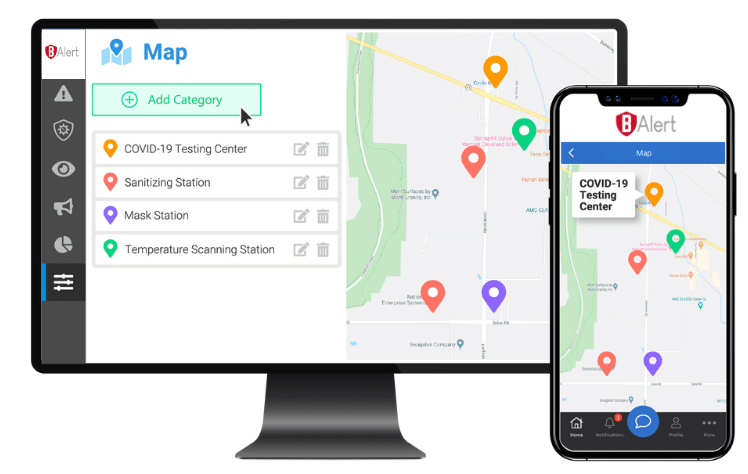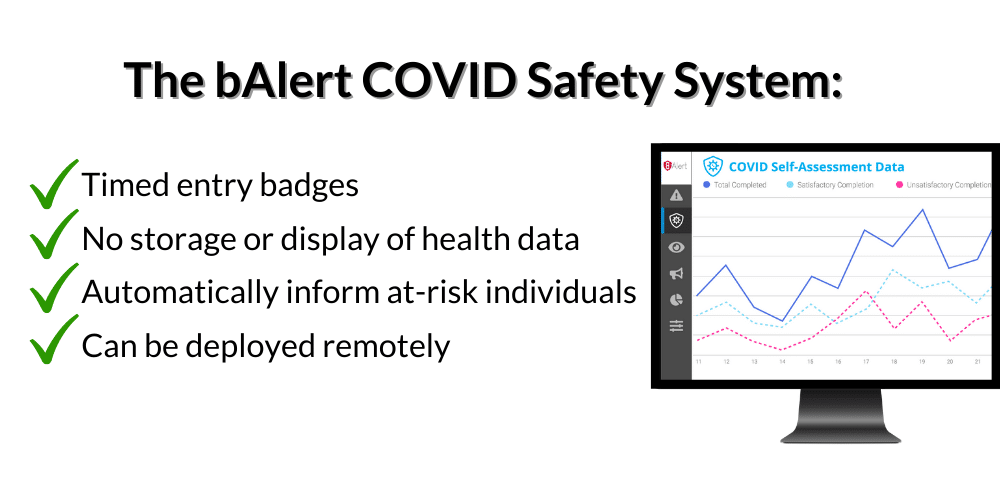 The bAlert COVID Safety System is equipped with customized solutions to fit your needs.