Have you ever felt uncomfortable walking to or from your car in a parking structure? Parking garages are generally dim, even on sunny days, and they tend to be high-risk areas for crime to occur. Even if you've never felt vulnerable in a parking garage, there's a high chance your patrons are cautious of them. According to the National Crime Victimization Survey (NCVS) conducted by the U.S. Bureau of Justice Statistics, more than 1 in 10 property crimes, such as motor vehicle theft and property theft, occur in parking garages. Even worse, the NCVS survey reveals that 7.3 percent of all violent crimes happen in parking facilities — 16 percent of which were assault, rape, and robbery.
By deploying access control systems, proper lighting, and emergency call stations in parking areas, your visitors will experience a greater sense of security when parking at your facility.
Access Control
Parking garage security starts before cars enter the facility. Access control systems are a key component in keeping visitors and their property safe. Not only does monitoring everyone who enters and leaves the parking facility help secure the area, but it also acts as a deterrent. Criminals know that their presence has been noted and that they're being watched.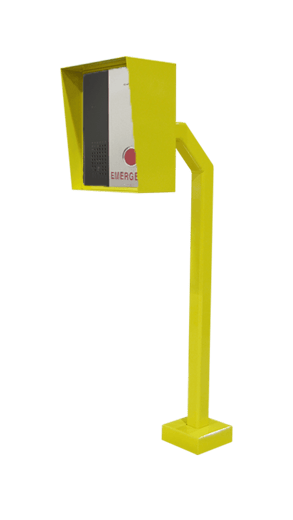 Talkaphone's access control systems are available with card readers to provide parking management with an accurate number of vehicles present at any time. A two-way communication system at the gate allows the gate operator to assist drivers with any issues. Our freestanding gooseneck pedestal can be equipped with an access or emergency/information phone mounted at car height. Constructed of vandal-resistant ⅛-inch thick steel, the pedestal is ideal for drive-up applications including garage access control and entry.
Lighting
Poorly lit parking garages provide cover for those with criminal intentions as well as make it difficult for pedestrians to be seen by drivers, making it crucial to evaluate your facility's lighting. Lighting considerations include brightness, uniformity, color rendering, efficiency, lamp life, and compliance with any applicable lighting ordinances.
Call Stations
Emergency call stations are an important security tool and should be installed on all floors of a parking garage. All Talkaphone call stations feature blue LED lights, making them easily visible anywhere in the parking structure. Again, this serves as a deterrent and provides patrons with a greater sense of security knowing that help is just a button press away.
When a person feels unsafe, our call station wall mounts provide direct access to emergency personnel via a reliable, built-in phone. Featuring obvious red emergency call buttons, our wall-mounts, call stations, and emergency towers are easy to use and provide immediate assistance in parking garages and lots where mobile phone service is poor.
Talkaphone's call stations are constructed out of durable, vandal-resistant stainless steel. Built-in video cameras enable security professionals to monitor the environment at all times. With multiple configurations available including wall-mounts and towers as well as call stations equipped with defibrillators, Talkaphone offers parking garage security solutions suitable for all types of facilities including:
Public parking

Shopping center parking

Government parking

College campus parking

Airport and mass transit parking

Industrial campus parking

Hospital parking
As with many things, prevention is the best approach. Access control, proper lighting, and highly visible call stations serve as a strong deterrent to parking lot crime and help patrons feel more secure. Should a crime, accident, medical issue, or other unsettling event arise, help is within arm's reach with Talkaphone call stations.
Want to learn more about Talkaphone security solutions for your parking structure? Call (773) 539-1100 or email us at info@talkaphone.com.