FOR IMMEDIATE RELEASE
Monday, January 30, 2023
Media Contact:
Nadine Blanpied
Marketing Manager, Talkaphone
(773) 539-1100 x 7229
nblanpied@talkaphone.com
Talkaphone Announces Steve Johnson as President and CEO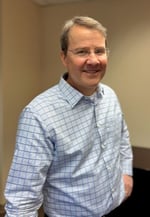 NILES, January 30, 2023 – Talkaphone announced today that Steve Johnson has been appointed as President and CEO of the organization. With over 30 years of experience across several well-respected audio and electronics companies such as Motorola, Shure, Harman, and Bosch, Johnson assumed his role with Talkaphone on Monday, January 23, 2023.

"I am honored and thrilled to join Talkaphone, an organization that has earned a stellar reputation for their lasting and important contributions to the safety communications and mass notification industry," Johnson said. "I look forward to leading Talkaphone and working closely with our long-time partners to strengthen our position as the leading designer and manufacturer of security and life safety communication solutions."

With his technical background and broad leadership experience, Johnson has served in a variety of roles in engineering, product management, marketing, sales, and general management including as CEO of Community Professional Loudspeakers from 2013 to 2019. After the acquisition of Community Professional Loudspeakers by Biamp, he joined Audix Microphones as VP of Sales and Marketing. Most recently, he managed the strategic account development and growth of US pro audio customers as Director of Business Development at Tymphany.

Johnson earned his BS, Electrical Engineering from Kansas State University and his MBA in Marketing and Finance from Northwestern University's Kellogg School of Management.

About Talkaphone
Established in 1935, Talkaphone has been designing and developing reliable, flexible communication systems with our customers' needs in mind for over 87 years. Talkaphone is the industry's leading designer and manufacturer of security and life safety communication solutions. From blue light towers and access control to mass notification and personal safety solutions, our versatile family of products can be configured to meet any application. Headquartered in Niles, IL, we proudly manufacture our line of high-performance, ADA-compliant communication systems in the United States. We've answered the call for diverse and meaningful products that address communication needs as well as security integration. For more information, visit www.talkaphone.com.