Published in: SDM Magazine, April 2011.
DePaul University- Chicago, IL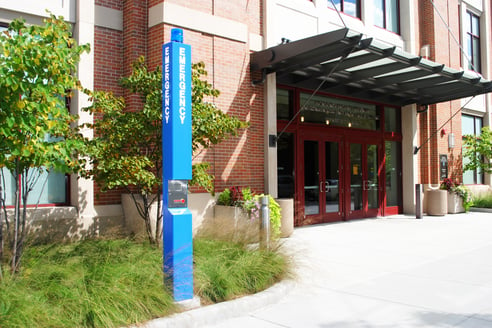 Executive Summary
Depaul University is a private university located in Chicago, IL. With more than 22,000 students attending the university, Depaul prioritizes their safety and wellbeing while on campus.
Challenges
As facilities are going IP for building-wide use, it becomes economical to install VoIP Emergency Phones in hallways, stairwells, and elevators along with IP-based video surveillance and access control systems. VoIP emergency phones are designed for emergency situations, thus their primary function is to establish reliable communications in the time of crisis. Emergency phones are also ADA compliant and their ruggedness gives passers-by a sense of security.
For DePaul University, upgrading to VoIP emergency phones was not a hard decision to make. Founded in 1898, DePaul University is the largest private institution in Chicago, with more man 23,000 Students.
"Fortunately, I'm set in an institution that is big on safety," explained Bob Wachowski, director of public safety for DePaul University. "There is a capital funding program in place, and DePaul has come a long way. The university administration is very supportive of my needs, and that is unique."
You can see the Blue Lights from about everywhere you are on campus. They help our

students feel safe and they are a great deterrent to crime.

Bob Wachowski
Director of Public Safety
DePaul University
Wachowski recently upgraded the college's analog emergency phones to new VOIP-500 series of voice-over-IP emergency phones, all manufactured by Talkaphone. The new phones are SIP compatible and work on the college's IP PBX system.
Talkaphone Solutions
As an added benefit, VOIP-500 series emergency phones can be paged at high volume with Talkaphone's WEBS Contact® mass notification software, allowing the public safety personnel to issue targeted alerts to any segment of a campus in groups or individually. The software automatically tests and verifies connectivity of VOIP-500 series phones and sends email alerts on failure detection.
Wachowski also recently installed Talkaphone's new generation of all-LED Blue Lights on 90 existing emergency phone towers. "You can see them from about everywhere you are on campus. They help our students feel safe and they are a great deterrent to crime," he says.
The new units are ultra-bright all-LED Blue Lights, featuring exceptional 209 lumens peak rating and prismatic pattern to enhance visibility at greater distances. All-LED construction of the unit significantly increases its life span, providing reliable service for years to come.
"Our biggest crime is theft of unattended items," Wachowski adds. "But some of our issues occur late at night, so the phone towers assist the students. I recently met with the student government association to help us promote the use of them. Our campus tour guides already promote them. We like to make every student is aware of the emergency call towers."
IP does empower communications. And now that emergency phones are available with VoIP, security professionals can take full advantage of their IP infrastructure.