Securing Mass Transit Environments
With millions of travelers taking to our nation's airports and mass transit facilities each year, safety and security are among the most important and scrutinized elements of any facility's infrastructure. Not only must personnel provide for the safety and protection of travelers within the terminal, but they also must account for incidents at various, and often remote, parking facilities.
Talkaphone offers more than emergency communication solutions, we empower people to make a difference. Two-way communication systems enable travelers and transit personnel to respond to emergency situations and provide passengers with a way to effectively report problems and receive critical information.
How Talkaphone Can Help
Talkaphone's wide variety of ADA-compliant, two-way communication systems provides airport and mass transit security departments with effective communication solutions. Travelers in need of assistance at remote parking facilities can rely on Talkaphone emergency communication and information phones. Our call stations are constructed of weather-resistant stainless steel and have an illuminated faceplate, with the option to choose an analog or VoIP phone. Many Talkaphone communication solutions also include optional video surveillance to track and monitor activity at unattended parking lots.
Integrating new technology with an airport or train station's existing system can be difficult, but Talkaphone offers versatile solutions that are compatible with a number of solutions providers to relieve these challenges. Travelers in need of assistance can rely on Talkaphone emergency communication phones to report misplaced or stolen vehicles, request towing or minor vehicle assistance (i.e., dead battery, flat tire) as well as to report a medical emergency or even suspicious activity.
Click the image below to download a free copy of Talkaphone's Mass Transit Emergency Communications Solutions brochure to see our comprehensive line of products designed for Mass Transit Safety.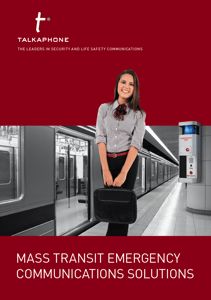 Transportation Case Studies