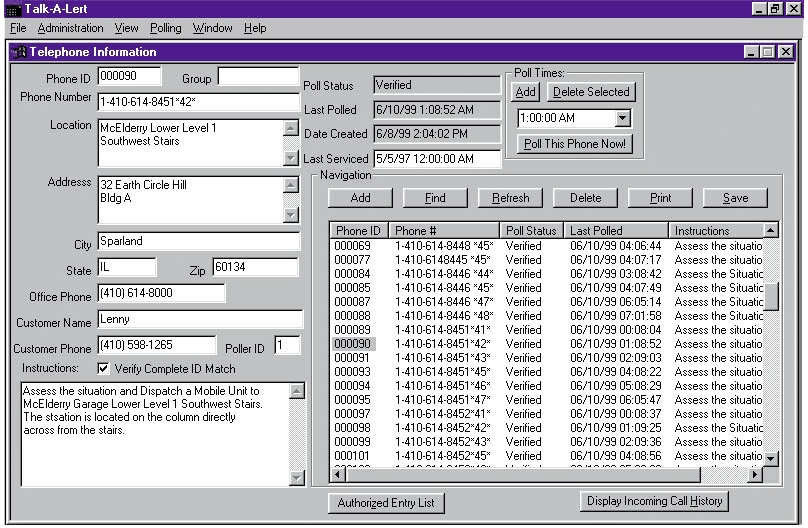 ETP-TAL
Talk-A-Lert Polling and Call Identification System for Analog Call Stations
Talk-A-Lert® is a hardware/software package that automatically tests ETP-100 Series and ETP-400 Series Emergency Phones and phone lines. It also serves as a base station, displaying calling location, instructions and other information for incoming emergency phone calls.
Request A Quote
Features and Benefits
Contact us for a free demo CD!

Operates on Microsoft Windows XP and 7

Dedicated computer is NOT required

Emergency window shows exact location of incoming call plus any other critical information

Remote operation enables many sites to be maintained from one location

All polling and incoming call information is stored permanently

Many detailed management reports available, including individual phone polling history incoming call summary, more

Automatically polls emergency phones up to once per minute (average poll time is 30 sec.)

Poll all phones at any time by pressing one button

Admin user may assign different authorization levels

Incoming calls and unsuccessful polls optionally trigger alarm sound

Capable of sending alarm events to Lenel OnGuard Alarm Monitoring software to automatically activate CCTV, GUI alerts, and other functions (Lenel OnGuard and Talkaphone Intercom License for Lenel OnGuard are required. Software and license are available and sold separately by Lenel Systems, International.)
Request A Quote
Fill out the form below to start the conversation about your next project!