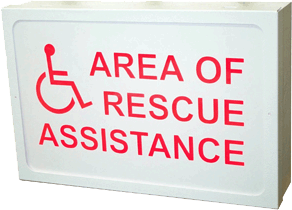 ETP-SIGN/L
Single-Sided, LED Lighted ŇAREA OF RESCUE ASSISTANCEÓ Sign
Talkaphone's ETP-SIGN/L Lighted Sign designates a location as an Area of Rescue Assistance and aids in locating an emergency phone. The sign features high intensity red LEDs providing bright and uniform illumination, while offering durability and strength in a 20 gauge steel enclosure.
Request A Quote
Features and Benefits
Sign is self-adhesive to mount easily on a wall

Raised lettering and Braille for ADA compliance

Constructed of ultra-violet light-resistant polycarbonate
Request A Quote
Fill out the form below to start the conversation about your next project!